Our team has a combined 150 years of expertise working with and for world-class international, national, and retail brands. To make operations profitable for our clients, we plan to fill product portfolio and supply gaps.
Rudolf Walfort having 36 years of international experiences.
Ajay Thakur  having 21 + years in consumer insight/ market understanding – India/ Middle-East/ West Africa.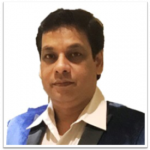 Rajesh Sharma having 28 years of experiences.
Rahul Goel having 29 years of experiences.
Rakesh Joshi is having 37 years of experience Leading a team of advocates practising Corporate law and Compliances
Sushil Kumar having 30 years of international experience in: